Fall 2023: Two Seats Left
Click Here for more details on the Fall 2023 Schedule.
Winter 2024: February – July 2024
Click Here for more details on the Winter 2024 schedule.
The pace of change in today's business requires us to be flexible learners and leaders, capable of adapting to an ever-increasing array of unexpected events and circumstances. Beyond what is required of us to survive effectively in this fast-paced world, there is an opportunity to learn to thrive in the possibility it holds. Join us for Language of Leadership and explore the growth that's available in the midst of challenge and change. And together we'll take the next steps on the path of leadership transformation.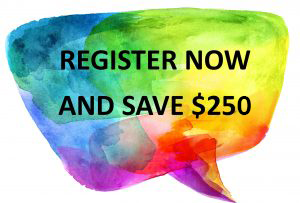 Language of Leadership is organized around three face-to-face sessions held over six months in Eugene, OR. Plus, each participant engages in a coaching program with one of our facilitators. In between sessions, you will engage in personalized assignments, and connect with a learning partner. This powerful and challenging training program will help you shift your leadership way of being to create the outcomes you desire. During this six-month program you will:
Participate in a personalized coaching program that's designed to help you expand your capacity as a leader; get on-going guidance about how to link your learning to your challenges.
Identify the specific attitudes, behaviors and communications that are limiting the results you seek and practice new behaviors that will help you shift your leadership way of being.
Understand how to effectively communicate with different communication styles and discover new strategies to help address their primary concerns.
Develop leadership coaching skills and learn how to apply these skills to help others see new possibilities to existing challenges.

Who Should Attend?: The Language of Leadership is an advanced program intended for leaders, managers and individual contributors who are ready to step up to the next level of personal and professional development. It is designed for people who are interested in and committed to their own ongoing growth — both as an individual and a leader — and who are willing to engage in active learning.

REGISTER NOW AND SAVE $250


If you're ready to take your leadership to the next level of authenticity and effectiveness, join us for The Language of Leadership and discover the new possibilities waiting to emerge! Save $250 when you register three months before the start of the program (for Fall 2023: June 12, 2023; for Winter 2024: November 6, 2023). Your early registration fee of $4,250 includes seven days of face-to-face training and a five-month coaching program with one of the program facilitators.
QUICK LINKS